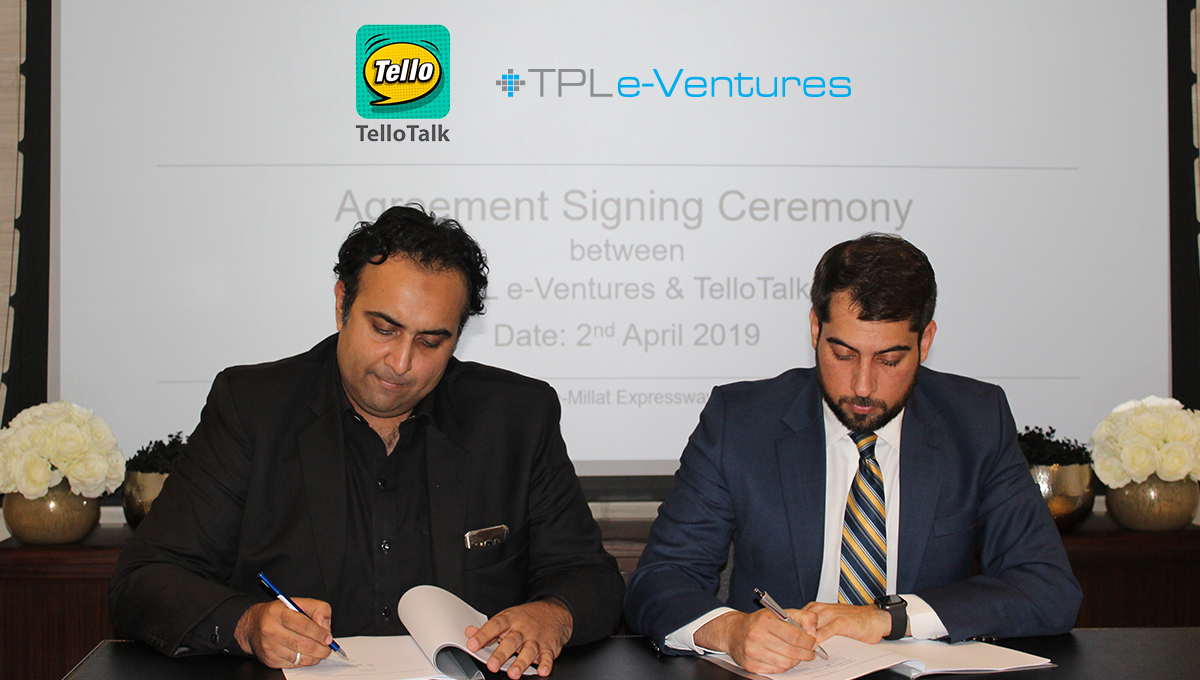 TPL e-Ventures, Venture Capital arm of TPL Corp, today announced an investment and partnership agreement with TelloTalk, Inc. – Pakistan's homegrown social and corporate messaging platform. The strategic partnership aims to accelerate the digitization of Pakistan's economy by introducing a hyper-localized messaging platform that allows people to communicate, share content, transfer payments and transact with businesses.
TelloTalk's messaging platform addresses the shortcomings of global social media applications by providing privacy and data security through local hosting of its technology stack. The Company's slogan "Apas ki Baat" encapsulates the desire of users to communicate, transact and share content freely and securely without their data leaking overseas. Besides text, voice and video calling, the platform provides curated content in Urdu, English, Sindhi, Pashto, Punjabi, Balochi and other regional languages. Users can view live TV, watch Pakistani dramas and listen to the latest desi tunes on live radio. An in-built media player offers thousands of local songs, videos and Islamic content without the need to switch to other applications.
TelloTalk's all-in-one messaging platform also seamlessly connects users to local businesses. Future releases will allow TelloTalk users to experience exciting new features like ordering food delivery, requesting a ride-hailing car or taxi, pay utility bills, check bank balances and transfer cash to users and businesses directly from the mobile app.
"TelloTalk is a testament to the incredible talent that exists in Pakistan's tech ecosystem" said Ali Samir, CEO of TPL e-Ventures. "We have seen how a single indigenous messaging application has transformed the economy of a country like China. What the TelloTalk team has built is incredibly innovative, disruptive and astonishing in its breath and scope. Pakistan, with a young a burgeoning population of over 200 million, can leapfrog into the digital age by adopting a local platform like TelloTalk. On behalf of TPL group I'd like to congratulate the team of talented engineers and business professionals at TelloTalk. We envision this platform spreading beyond the borders of our nation to service other emerging markets around the globe."
"We are extremely grateful for the faith entrusted in us by TPL eVentures, and our team is excited by the collaborative growth this alliance unlocks. As one of the exclusive listed IT companies of Pakistan, TPL is an ideal partner for TelloTalk on an array of product and services, including in-app messaging services, corporate communications and e-Government services.. TPL have been an ardent supporter of TelloTalk's vision of having a localized, secure messaging platform with the shared belief that messaging will naturally become the interface of all future services. We are absolutely thrilled to embark upon this journey together with TPL and can't wait to reveal to our users the exciting new features and services that this collaboration will bring for them." Said Shahbaz Jamote, CEO TelloTalk
Incorporated in November 2017, TPL e-Ventures is the newest undertaking by Pakistan's tech giant, TPL Corp. TPL e-Ventures (Private) Limited aims to invest in multiple startups across industries with a vision to build a world class platform known for catalyzing high potential / high-impact entrepreneurs.
An official signing ceremony was held, at the TPL Centrepoint Office, where Ali Samir, CEO – TPL e-Ventures and Shahbaz Jamote, CEO TelloTalk formally signed the agreement followed by a meeting held between the TPL and TelloTalk teams.